Enamelling - Play with Colours on Metal
| Term Four, 2019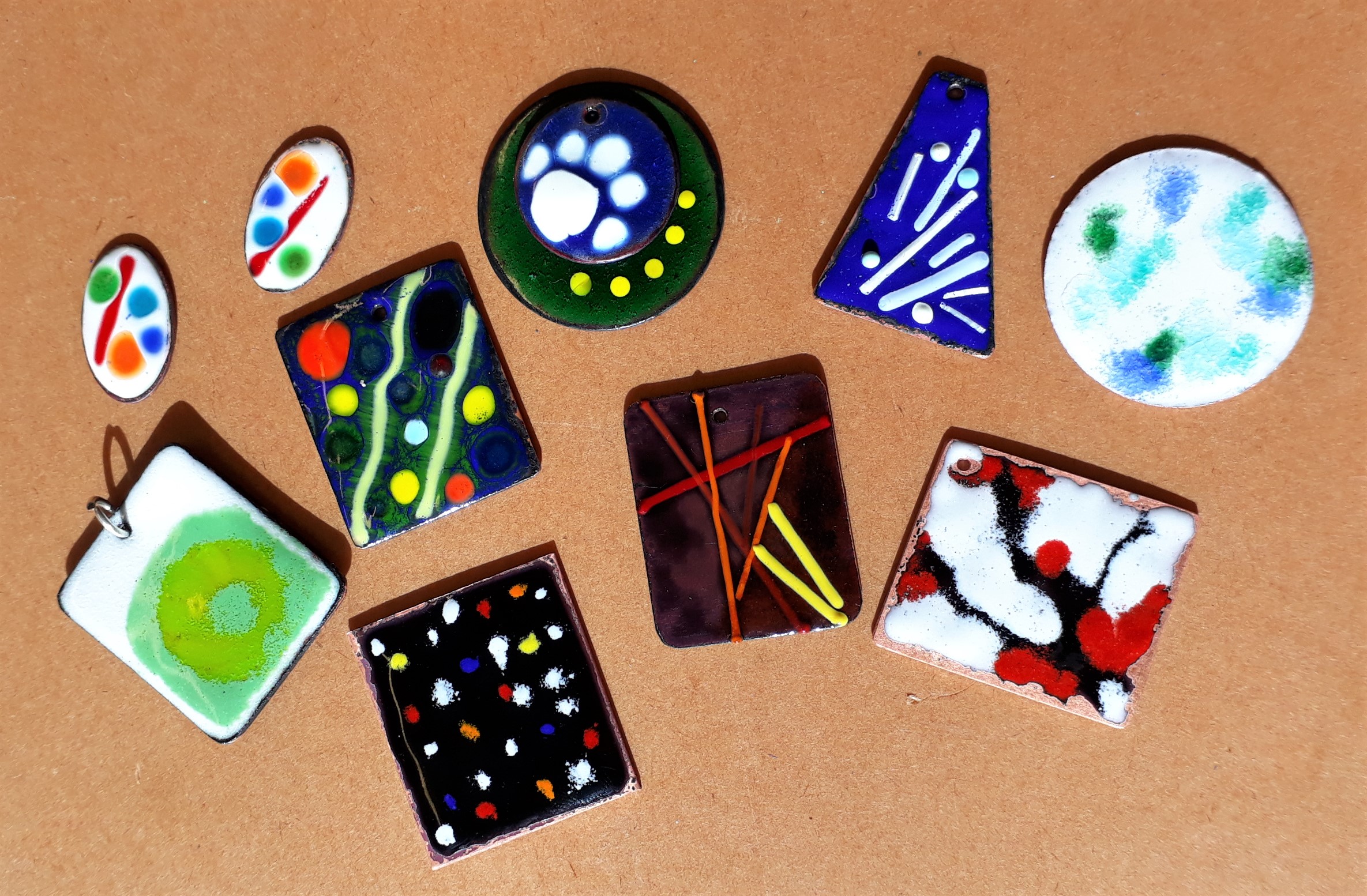 Enamelling is one of the oldest methods used to decorate metal. By fusing a glass-like coating onto copper or silver you can create colourful and imaginative designs.
Explore some basic techniques, from simply mixing different colours together, to using stencils and sgraffito (scratching through a top layer to expose a layer of a different colour underneath). Learn fundamentals such as setting up your work station and preparing your enamel powders and metals. Practise on some test pieces then work on more complex projects during the term.
Time permitting, we may then move on to a specialty technique called 'cloisonné', where thin strips of fine silver can be incorporated in the enamel to separate different colours.
Please come to class on time as valuable practical demonstrations are often given in the first part of the day.
Suitable for all levels.
Content
* Introduction to torch-fired and kiln-fired enamelling with demonstrations throughout the term on different techniques, jewellery tools and their uses
* Research and use drawings to develop your design concepts
* Liaise with other students to advance ideas and share knowledge
* Complete at least one project as wearable jewellery and document the processes
* Feedback will be given throughout the term and on finished works
Objectives
* Build confidence in your own creative journey as an artist
* Acknowledge your own style and artistic integrity
* Develop understanding of how far you can push a design and how far you can push a material
* Play and experiment with different enamels and different techniques
Outcomes
* Develop conceptual thinking around your creative process
* Gain knowledge of the material/s you wish to use
* Gain knowledge of traditional and non-traditional jewellery making techniques
* At least one completed piece of body adornment

Class Type:
Mains Class
Tutor:
Natalie Halley
Every Friday (21 Oct - 06 Dec)
9:30am - 4:30pm

Materials cost: $15 for consumables and enamel powders. Metal will be extra. Casual Students: $525.00 + materials
T2.08 Jewellery
11 (Max number of students)
Required Materials:
* Visual diary and dust mask - essential
* Fine brushes optional
* Chosen materials - silver or copper
* Enamel powders are available from the Jewellery studio
* Solder (hard, easy), sandpaper, 400, 800, 1200, saw blades 2/0 or finer
* Closed top shoes essential - no jandals or sandals
* You can purchase your art supplies from our Materials Shop