Wax Carving for Beginners
| Term Two, 2023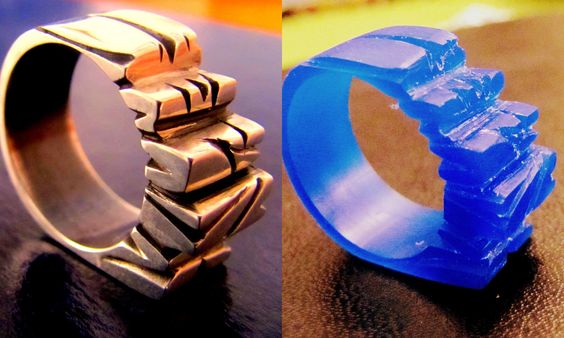 Here's your chance to get a taste of jewellery making by exploring and learning wax carving skills to make original pieces for casting.
Lost-wax casting has been used for hundreds of years and is still the way most pieces of jewellery are created to this day. It's a wonderful way to bring to life and create unique forms, carved or moulded straight from your creative mind.
We will be exploring the different types of jewellers waxes and how to work with them to create wearable 3D forms, with texture and symmetry, using a variety of tools and equipment. Lost wax carving offers a great opportunity to carve detailed jewellery pieces or experiment with more organic and alternative forms and folds, gives good quick results and is fun to play with!
Please wear protective clothing and bring a dust mask! Full day students only and great for casuals.
In this class we will be creating our wax forms. No casting will be done in class but there will be an opportunity to do this in Term 2, Block week 2.
An ideal class for beginners.
Content
* Introduction to jewellery tools, their uses and demonstration of specific techniques
* Research, design concepts, drawings, and 3D models created where necessary
* Liaise with other students to advance ideas and share knowledge
* Work on your project in your chosen materials
* Health and safety requirements
* Complete your project
* Document process and completed project/s
* Discussion/feedback on finished work
Objectives
* Introduction to jewellery tools, their uses and demonstration of specific techniques
* Research, design concepts, drawings, and 3D models created where necessary
* Liaise with other students to advance ideas and share knowledge
* Work on your project in your chosen materials
* Health and safety requirements
* Complete your project
* Document process and completed project/s
* Discussion/feedback on finished work
Outcomes
* Develop your creative processes
* Gain knowledge of the material/s you wish to use
* Gain knowledge of traditional and non-traditional jewellery making techniques
* Creativity Projects you will be able to work towards include but are not limited to - Level 4 - CP1 Investigate, CP2 Present, CP3 Examine, CP4 Explore Level 5 - CP1 Challenge, CP2 Synthesise, CP3 Apply, CP4 Identify Patterns Level 6 - CP1 Initiate, CP2 Analyse Patterns, CP3 Present



Class Type:
Mains Class
Tutor:
Keri-Mei Zagrobelna
Every Thursday (08 May - 23 Jun)
9:30am - 4:30pm

Materials cost: Class fee - $10 for consumables (gas, etc.) Casual Students: $630.00 + materials Casual Students: $630.00 + materials
T2.08 Jewellery
11 (Max number of students)
Required Materials:
* Jeweller's wax will need to be purchased from the shop
* Casual Students: $630.00 + materials
* Visual diary
* Closed top shoes essential - no jandals or sandals