TERM 1 2023: Stone Cabochon Carving (3 - 6 April)
| Term One, 2023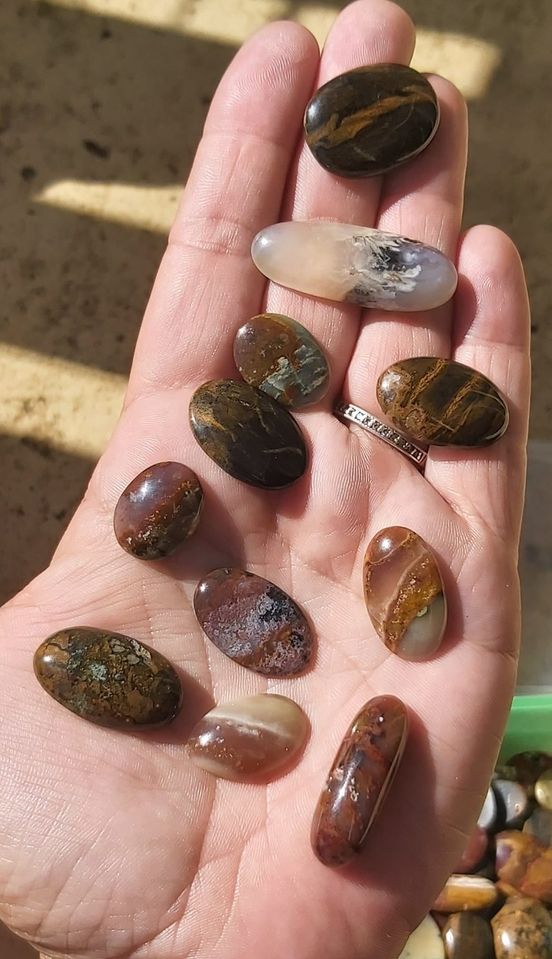 Learn the fun, creative process of how to carve stones into cabochons that you can set into rings, pendants or brooches. A cabochon is a round or oval stone that has been shaped and polished as opposed to faceted.
In the second half of the four-day week, set your stone cabochon creations into wearable jewellery.
This is a fast-paced class so you will need to attend each day as we explain how to use the equipment safely, across the two workshop areas we will be using.
Please bring along any stones you would like to transform into cabochons. However, no quartz or other very hard stone is allowed on our machines. If you are uncertain about which stones can be used, please check with Keri Mei.
Please wear protective clothing, some safety equipment will be provided but if possible, please bring your own waterproof apron or poncho, a dust mask, ear muffs and closed-toe shoes only.
Suitable for all levels.



Content
Experiment with stone carving techniques and methods using diamond grinders and sanding machines. Learn how to design and create a carved stone piece that fits into your jewellery and complements your piece. We will discuss your design and you will receive feedback for the finished work.
Jewellery examples will be presented on the first morning and we will consider the possibilities and limitations of materials, size and design.
Please be on time to follow the class outline.
Objectives
* Build confidence in your own creative journey as an artist
* Learn a new skill that can feed into your other creative practices
* Acknowledge your own style and artistic integrity
* Develop an understanding of how far you can push a design and how far you can push a material
Outcomes
* Develop your creative processes
* Gain knowledge of the material/s you wish to use
* Gain knowledge of traditional and contemporary jewellery making techniques
* Creativity Projects you will be able to work towards include but are not limited to - Level 4 - CP1 Investigate, CP2 Present, CP3 Examine, CP4 Explore Level 5 - CP1 Challenge, CP2 Synthesise, CP3 Apply, CP4 Identify Patterns Level 6 - CP1 Initiate, CP2 Analyse Patterns, CP3 Present



Class Type:
Block Week
Tutor:
Keri-Mei Zagrobelna
Every Block Week Two ( - )
9:30am - 4:30pm

Materials cost: Class fee: $10 for consumables (gas, etc.) Casual Students: $360.00 + materials
T2.08 Jewellery
10 (Max number of students)
Required Materials:
* Visual diary
* If possible - water proof apron or poncho, ear muffs, dust mask
* Your own stones to carve. Remember - no quartz please!