Colour Control
| Term One, 2019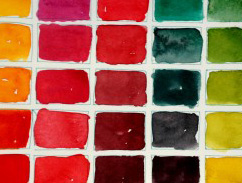 Colour is both one of the most exhilarating and most problematic areas of painting. Love of colour is why many of us paint. This class is about getting your head around how to use colour, how to create the colours you want (and repeat it!) and gain an understanding of the qualities of different pigments. It's about knowing what colours to mix for shadows. It's about gaining control over your palette.
Suitable for all levels of experience.
Content
We will be playing with colour. We will not be creating a painting but working loosely with different colour combinations, finding colours you love to use.
We'll be looking at palette organisation and, most importantly, how to mix a colour again when you've found one you really like. Learn how to make colours look brighter by putting other colours next to them and how to make colours recede in a painting.
Learn how to be in control of your colours.
Objectives
For students to get an understanding of how to mix and how to use colour.
Outcomes
A better understanding of how to mix colours, how to place colours in a painting, how to create harmonious colours in a painting.



Class Type:
Weekend Class
Tutor:
Sarah Brock
9th, 10th March 2019
10:00am - 4:30pm

Materials cost: Depends on how much of the above equipment you have already Casual Students: $75 per day + materials
T2.27
15 (Max number of students)
Required Materials:
* Paint (either acrylic or oil): zinc white, lemon yellow, cadmium yellow, cadmium red, quinacridone red (alazarin crimson or rose madder), ultramarine blue, pthalo blue, burnt umber, burnt sienna
* Medium (matt medium for acrylic, Liquin for oils)
* Range of brushes
* Gesso
* Surfaces to paint on: canvas paper, canvas, wet strength cartridge paper, board