Creative Alchemy
| Term Four, 2018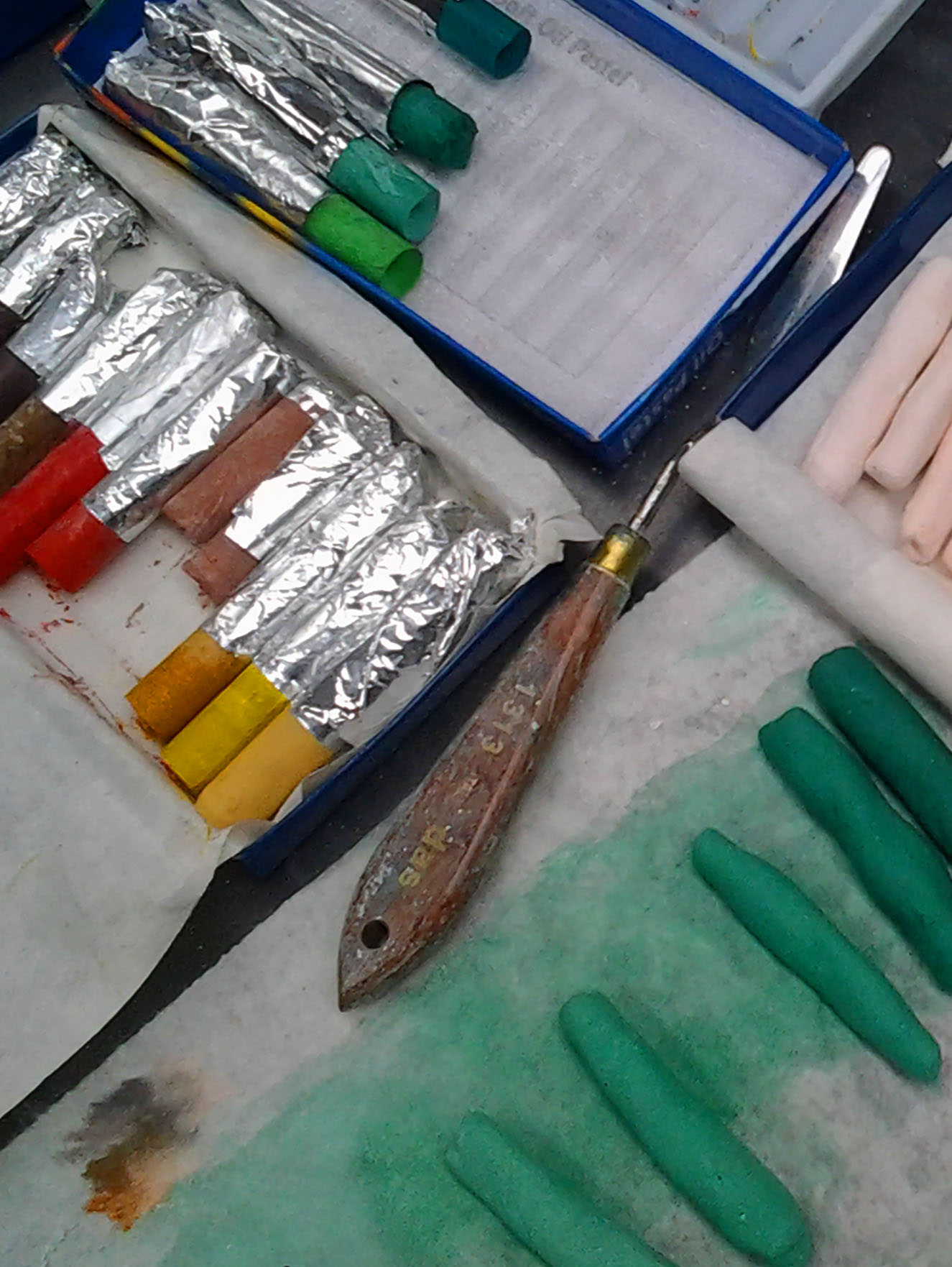 What is it with all these art materials being so expensive? There must be some way to bring the costs down. This class will teach you how to make your own pastels, your own texture media and even your own special effect paints.
Cheap pastels have limitations such as their limited colour range and texture. Expensive pastels have limitations as well - their cost! And the limitation of all pastels is that there is never enough of the ones you really like in the box.
The solution? Make your own. Also there are some gorgeous textured, metallic, shiny, scrumptious mediums out there – but the cost! Naming no brand names … If you can put it into a binder...you can make it into a medium you can use with paint.
Suitable for all levels.

Content
Explore the possibilities of what can be made. Your tutor will demonstrate conventional options such as making soft pastels, oil sticks and painting mediums. For the more adventurous you could take this further combining varnishes, Oamaru stone dust, glitter or metallic powders.
Perhaps you'd like to use gold leaf in your paintings – come and ask me and we'll do it (keeping to the school 'no smellies' rule).
Bring along your ideas. Let's give it a go!
Objectives
* Learn how to make some basic art materials such as soft pastels, oil pastels, textured pastes
* Discover how easy it is to experiment and make up your own recipes
Outcomes
* A better understanding of what art materials are made from and how to keep costs down while using some really cool stuff
* Novel and inventive materials for your own work



Class Type:
Weekend Class
Tutor:
Sarah Brock
8th, 9th December 2018
10:00am - 4:30pm

Materials cost: Depends on what you will need to buy from the materials list. Casual Students: $75 per day + materials
MM3
15 (Max number of students)
Required Materials:
Keep your costs down by choosing what you want to make before the class.
To make soft pastels:
* Packet of 12 or 24 cheap soft pastels
* Box of white chalk, at least 500g of talcum powder (Johnson's baby powder is fine, just not the cornstarch variety)
* Lots of sealable plastic sandwich bags to put the ground up pastel dust in
For oil pastels:
* Pack of 12 or 24 oil pastels (or dry pigment)
* Pack of white wax crayons, linseed oil, beeswax
* Tuna tins to melt wax in, foil to make tubes to pour wax into
To make textured mediums: Acrylic matt gel, material to mix into it e.g. Oamaru stone dust. Any other materials that you have wanted to combine into your paintings but have not been sure how to do it.