Open Studio Sculpture
| Term Three, 2022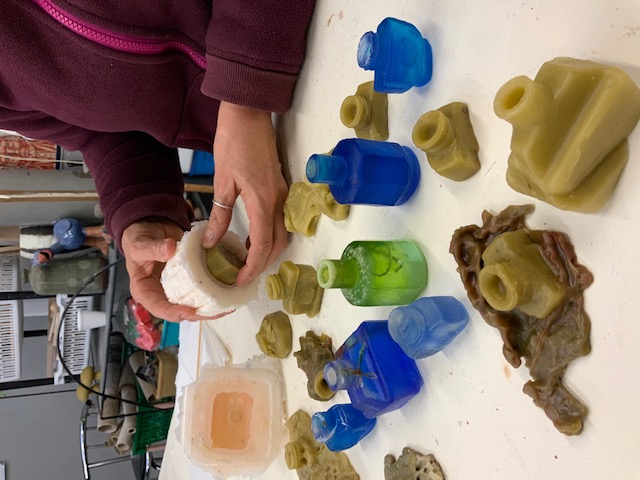 In this open studio style class you are free to explore sculptural processes in your own area(s) of interest. Cast glass, clay, cement, latex, mosaics, plaster, mixed media or bronze are some of the things which you can use.
Either, create your own project or, if you are uncertain about where to start...your tutor will assist you to shape a suitable project which appeals.
This is a relaxed and friendly class where you will be encouraged to observe what your fellow classmates are doing to gain insight into the possibilities of other techniques which you may wish to explore in the future.
Students choosing to work on projects with a focus on clay will have attended the Beginners' Ceramics class or have some prior experience. Some projects could take more than one term to complete if they are complex. Maximum weight of cast glass is 2 kg Gaffer glass.
Suitable for all levels.

Content
* Welcome and introductions
* Basic information regarding studio facilities and best practice guidelines
* Discussion with the group and individually regarding what you want to explore
* Individual and group discussions and demonstrations of relevance to your project
* Reference to other artists who may be of interest to you as your projects progress
* Work on projects to progress your ideas, explore materials and refine your skillset
* Please note: some projects may take longer than one term to complete. You may wish to extend your project across other 3D classes within the same term
Objectives
* Extend your skills to develop a more in-depth working knowledge of a clear set of construction processes associated with your chosen sculptural project
* Follow best practice guidelines for the materials you are working with
* Develop your research skills to enable you to independently source and access information on techniques and artists of relevance to your creative practice
* Be responsive to that which makes you curious
* Strengthen the intuitive response and use this constructively to develop/extend your own creative practice
* Create interesting work that you are proud of from ideas that you have generated

Outcomes
* A deeper understanding of the creative processes and techniques associated with your chosen material(s)
* Increased ability to think deductively and respond intuitively to the materials as you progress your work
* Gain confidence and insight into your own creative processes and preferred ways of working
* Create work generated from your own ideas
* Through discussions with your tutor, and your own research, expand your knowledge of other artists who are of relevance
* Gain insight into the possibilities of other materials/ techniques through observation of the projects undertaken by fellow classmates



Class Type:
Mains Class
Tutor:
Mel Ford
Every Thursday (25 Jul - 09 Sep)
9:30am - 4:30pm

Materials cost: $30 firing fee for students working with clay or cast glass. There is a maximum weight included in this charge. Glass: 2 kg and clay 10 kg fired weight. Please see shop for material prices. Casual Students: $630.00 + materials
Hot Arts 2 – Ceramics / Wax
12 (Max number of students)
Required Materials:
* Dependent on your project - discuss this with your tutor prior to purchase of materials
* $30 firing fee per term for clay or cast glass projects
* Clay, plaster, silica, plastiilina and dental alginate are materials you could possibly use. If working with cast glass we use Gaffer Glass
* There are many more material options which you may wish to use. Talk about your project with your tutor prior to commencing it. Many materials are available for purchase at our materials shop. Please check with the shop for current prices.